Manisha Singh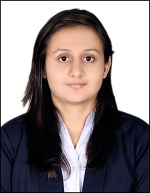 School of Materials Science and Engineering
Nanyang Technological University
Office: 51, NS4-04-24A (GR1)
50 Nanyang Avenue
Singapore 639798

email: manisha007@e.ntu.edu.sg

Biography
Manisha obtained her Bachelors degree in Biomedical Engineering in 2014. As a first step in her line of interest, on being awarded an Indian National Academy of Engineers [INAE] fellowship, she took the opportunity to work on Computer Screen Photo-assisted Technique and NI-LabVIEW in order to realize the functions of a spectrophotometer at a low cost in Indian Institute of Technology, Delhi [IIT-D]. She worked as a trainee in All India Institute of Medical Sciences [AIIMS], New Delhi while pursuing her Masters in Biomedical Engineering from Indian Institute of Technology, Banaras Hindu University [IIT-BHU], India. She had been involved with the Department of Gastro-Intestinal Surgery, AIIMS-New Delhi on a project related to development of affordable non-invasive device for management of urinary incontinence. She joined the laboratory of Terry W.J. Steele in July 2016 for her PhD.
Research Interests
Medical Devices,Medical Electronics, Biomaterials, on-demand Bioadhesives, Affordable Medical Instrumentation, and Ubiquitous Computing
Publications

2016
[3]
S. S. Manisha, "

Cloud Computing in Biomedical Applications for Remote Health Monitoring

", International Journal of Emerging Trends in Science and Technology, vol. 03, no. 03, 2016.
2015
[2]
M. S. e. a. Kalpesh Patil, "

Mental Stress Evaluation using Heart Rate Variability Analysis: A Review

", International Journal of Public Mental Health and Neurosciences, vol. 02, no. 01, 2015.
2014
[1]
P. B. Manisha, "

Affordable No-Frill Enteral Feeding System

", 2014.